Friday, May 3, 2013
This Twitter bot has has been designed to automatically post an I ♥ E-Poetry entry every hour at the 1/2 hour mark. If you're interested in exploring other works reviewed or reliving the excitement (!!!) of each entry, then this is the account to follow. It should take this bot about 21 days to tweet the whole project— which is just right for my current needs.
After 500 consecutive days of reading and writing about e-poetry, I'm taking a much-needed break.
But no worries, this is far from over. This is simply a pause before embarking upon the next stage of this project. In the meantime, I'll be conducting some assessment, redesigning some aspects of the blog, migrating it to a new site, integrating it with the ELMCIP Knowledge Base, inviting guest entries, and more.
See you in three weeks!
Sunday, December 30, 2012
This poem is a celebration of Nick Montfort's "Taroko Gorge" and the more than 20 remixes made from its source code, leading to what I consider the beginning of a new born-digital poetic form.
What Montfort has created with this poem generator is a way to find patterns in endless permutation of limited elements. But the poem is not in the endlessly looping textual output it produces, which is merely a temporary, ever-changing expression of an idea. The poem is in the moment a human intelligence reads that output, for however long necessary, and realizes what the poet wanted to express with those output patterns. The poem is in the pattern, teased out through the manipulation of variables and endless tweaks to the code to get this darned engine to produce something that roughly gestures towards what the poets wish to express.
This is the same impulse that has driven poets to wrestle with language to get it to express what they need to say, using whatever language technologies they have at their disposal: orality, manuscript, print, typewriters, word processors, programming languages, or authoring systems.
There is a practical dimension to "TransmoGrify." In addition to encoding insights gleaned throughout my readings of "Taroko Gorge" and its remixes, it gathers links to all the I ♥ E-Poetry entries for each of them. If you're interested in what I had to say about the individual poems, you can access them all from the list of writers on the right hand column.
Share, enjoy, and remix!
Note: For a more fun definition of transmogrification, see this.
Wednesday, December 19, 2012
Sunday, April 8, 2012
Tuesday, February 28, 2012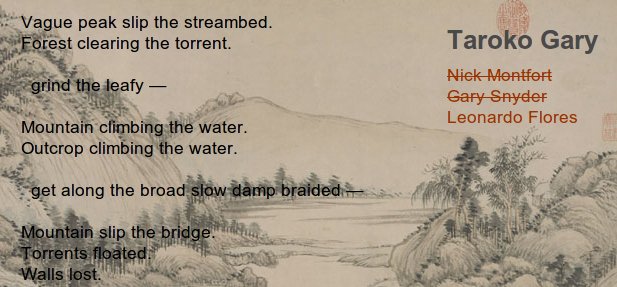 When I read "Taroko Gorge," by Nick Montfort, something about the endless scrolling through a natural landscape made me think of Gary Snyder's masterpiece Mountains and Rivers without End, inspired largely by Chinese landscape scroll paintings.
As a longtime reader and admirer of Snyder's poetry this mashup arises out of deep respect for both Snyder's and Montfort's work. This is not intended to imitate or generate lines by Snyder: merely to gestures towards his poetry. "Taroko Gary" is a path through a digital landscape, built out of Nick's trailblazing poetry generation code and using some of Snyder's words from "Endless Streams and Mountains" as cobbles.
So I have to thank Gary Snyder for his amazing poetry, Nick Montfort for "Taroko Gorge" and for inviting me to actualize the affinity I felt between his poem and Snyder's work, and Mark Marino for starting this discussion thread in the Critical Code Studies Working Group 2012.